My, how time flies! It seems like yesterday that I was making my first author visit ever to Ridgeview Elementary School in Springfield, Oregon. My first title, The Chewing Gum Book, had recently been published and the school librarian asked me to come and talk with students about getting ideas and developing them. That was 30 years ago!
This week, 27 books and hundreds of author visits later, I had a chance to return to Ridgeview to speak with students about writing. While the students' faces were unfamiliar, the building had an old-home feel to it, and I paused to take in the library, where I had done my presentations so long ago. Technology used: slide projector and overhead projector.
The kids I spoke with this week could easily be the children of the kids I presented to back in 1990. Imagine that.
A lot has changed over 30 years, but a few things have not: the enthusiasm and engagement of the kids I get to work with, and the satisfaction I get in sharing my curiosity and passion for writing.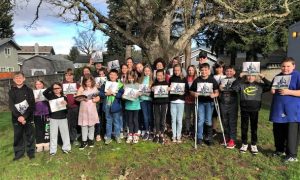 Ridgeview 5th graders