Once I decided on the story I wanted to tell, I had to decide the medium for telling it. The story was too limited for a regular novel and too violent for a picture book. Graphic novel, a combo of the two, seemed like the best option. I settled on that.
Trouble was, I had never written a graphic novel before and I had no idea how to do it. So, I went to the library and started reading all that I could find, especially true stories (which are not that common). Doing this was very helpful from a story standpoint, but I still needed help in how to actually format the writing, since it involves illustration descriptions, captions, and dialog.
Searching online for formatting guidance helped somewhat, but the suggestions were often at odds. I needed some real-world help. Fortunately, a writer friend (Kurt Cyrus – check out his books, they're great!) introduced me to one of his friends, Mark Fearing, another awesome writer. Mark has had great success creating graphic novels as well as picture books, and he was very generous in sharing his experience and insights with me. Many writers are like that, and I am so grateful.
Then came the researching, the writing, and the rewriting. Weeks, months, a year shaping the story, pacing, attending to details, checking them out with knowledgeable sources. David Witt, curator of the Seton Legacy Project, was a shining light. So was Julie Seton, the granddaughter of Ernest Thompson Seton.
Once the manuscript was ready, I started sending queries to publishers. And waited. And waited some more. Most of them I never heard from. No response – that's how they reject these days. The few I heard from said I needed to send artwork with the manuscript. Ugh!
Now, the journey changed from finding an interested publisher to finding a talented (and willing) artist. Easier said than done. Every artist I spoke with wanted upfront payment. That's understandable, but it wasn't something I was willing to do, especially given that I didn't have a deal with a publisher. I wanted to find an artist who believed in the project enough to do some work (not the whole book!) to show prospective publishers.
After a year of searching, I found my artist: Daniel Becker. I found him through Kickstarter, in which Daniel successfully raised money for a graphic novel project. It clearly demonstrated his entrepreneurial spirit and motivation. And, it showcased his artwork, which is excellent.
Although Daniel lives in Australia, he's from New Mexico, where the Seton story takes place. He connected with the story right away and began drawing in earnest. Here's some of his early sketches: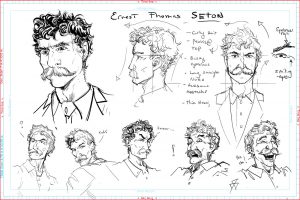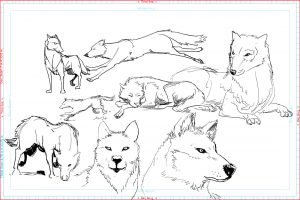 Next post I'll show you the finished work that we sent out, and share updates on the project.