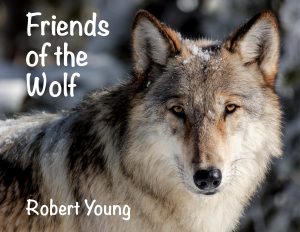 Wolves are one of my favorite animals. Why else would I spend seven years researching these amazing creatures? The results of that work is this book for young readers (ages 7-10) that provides an informational foundation, spotlights a working wolf sanctuary, and provides encouragements as well as direction for kids to support recovery efforts for these essential animals.
Autographed copies – $12.95
Or order here on Amazon
Passage (revised edition)
It's baaack! That's right, this book was revised a while back with new illustrations and put out by a small publisher. When all the copies were sold, I got the rights back and, with the encouragement of a history professor (thanks, Stephanie!), reissued the book. It is an interactive activity book for young readers (8-10). This historically accurate book tells the story of the most famous expedition in American history through the eyes of Seaman, the 150-pound Newfoundland that accompanied the Corps of Discovery every step of the way. The format is a series of journal entries, and readers are encouraged to interact with the text by making predictions, asking questions, finding answers, and connecting the text to their own lives. Incomplete line illustrations allow readers to enhance their artistic skills.
Autographed copies – $11.95
Or order here on Amazon

My curiosity about events is not limited to baseball. This book offers readers an insider's look at a college football game, from the locker room to the press box, from the sidelines to the sky suites, from the kitchens to the command center. Featured is the University of Oregon Ducks, one of America's premier college football programs. While aimed at readers 8-12 years old, this book can be enjoyed by curious football fans of all ages.
Autographed copies – $12.95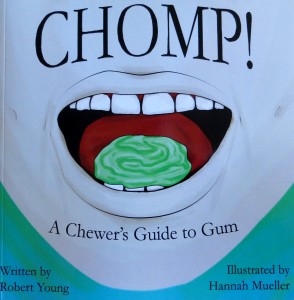 Everything you want to know about gum: where it comes from, how it's made, it's sticky history. Did you know artists around the world use gum to create art? You will see examples, and then you can make your own art by using the step-by-step directions included. You will read about how healthy gum is for you, and you'll discover how to blow a bubble as well as how to get the sticky stuff out of your hair or off your clothes. Full-color illustrations, sidebars, humor, and lots of WOW! information. Published on the 25th anniversary of my very first book: The Chewing Gum Book.
Autographed copies – $9.95
Or
Purchase here on Amazon
Moving Targets
Growing up isn't easy. For eleven-year-old David Jennings, moving to a new town makes it even harder. He does his best to make friends, but the best he can do is a small group led by the town bully, who gets thrills picking on kids and abusing animals. David reluctantly follows until events force him to consider actions that could change – or end – his life. This is a timeless middle grade story about the classic topics of bullying and growing up.
Purchase here on Amazon
Who Stinks?
When Bear awakens from his long winter sleep, he smells something bad. Very bad. Is it Mouse? Is it Snake? What about Blackbird? Bear is determined to find the answer, and with the help of Wind he just might. This stinky tale is for problem-solvers aged four to six. It took nearly twenty years (that's right – 20!) to find a publisher for this one, but I persisted because of the great feedback I got from kids and teachers when I read the story aloud during author visits.
The Magic of A.C. Gilbert
You don't have to look far for interesting topics. Alfred Carlton (A.C.) Gilbert was born in Salem, Oregon, about 60 miles from where I live. I knew nothing about him until I took my fourth grade class on a field trip to A.C. Gilbert's Discovery Village, a hands-on museum, in Salem. There I started learning about this fascinating guy. The inventor of the Erector Set (a building kit that I had as a kid), A.C. was also a magician, Olympic champion, master toymaker, and "The Man Who Saved Christmas." What a perfect topic for a book!
Autographed copies – $9.95
OTHER TITLES
Not Fair!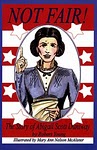 What do you do when things are not fair? This book is about Abigail Scott Duniway, a pioneer who worked tirelessly for 40 years to help women in Oregon win the right to vote. Her story of overcoming obstacles – losing her mother on the Oregon Trail, having to support the family after her husband is disabled, starting her own newspaper, entering the world of politics – is both amazing and inspiring. This book was produced with the help of historical organizations; copies were donated to classrooms around the state.
Passage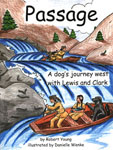 What do you do when you can't find someone to publish a manuscript you have written? One choice you have is to publish it yourself! And that's exactly what I did with this title. With the Lewis and Clark commemoration date closing in and responses from publishers very slow, I knew I had to get this book into print myself. It is my very first self-published book, and my first interactive book. Readers are encouraged to write and draw along the way as they follow the journal of Seaman, the dog that traveled with the Corps of Discovery — a dog's eye view of history! Aimed at readers in grades three through five.
How It Was
The idea for this series came when my son, Tyler, was in fifth grade. He had to research and report on a famous place in American history. Since our family had been to Virginia the previous summer, he chose Thomas Jefferson's home at Monticello, a place we had visited. For his report, Tyler showed slides and pretended he was a tour guide. The idea of a tour stuck with me, and I crafted it into the basis for this series, which is for readers in fourth through eighth grade. Each book provides readers with a look at famous places in American history as seen through the eyes of the people who lived, worked, or visited there. Places highlighted in the series include: Monticello, Ellis Island, Mesa Verde, Old Ironsides, La Purisima, and Camden Yards. The Monticello book was nominated for a Virginia Literary Award and honored as a Notable Social Studies Trade Book by the Children's Book Council.
Copies available at Amazon.com.
Game Day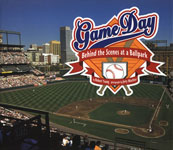 Have you ever wondered what takes place behind-the-scenes at an event? It happens to me all the time. When I was at a major league baseball game one time, I decided to find out. This book is the result. It tells what happens behind-the-scenes before, during, and after a game. I had no idea that the baseballs used at major league games are rubbed with mud that comes from only one place in the world! Most of the research for this book was done while spending a week at Oriole Park in Baltimore, Maryland. I had a great time, roaming the empty stadium, interviewing workers, and watching games from the press box. It amazed me to see how many people it takes to put on a major league game. This book has lots of photographs, which were taken by the Orioles' staff photographer.
Copies available at Amazon.com.
Money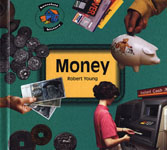 Money is fascinating, not just because we can buy things with it. With this book, I got the chance to explore how money came to be, the many things that have been used as money (including salt, tea, playing cards, and elephant tail hairs!), the history of U.S. money, how it is made, and how to become a collector. I even included a few tricks you can do with money. This book was voted an "Outstanding Title" by the Parent Council and selected as a "Notable Children's Trade Book in the Field of Social Studies" by the Children's Book Council.
Copies available at Amazon.com.
Both Sides
There is more than one side to every story, and to events as well as issues in history, too. This series came about when I was teaching American history to middle school students. Most of what they were reading about famous events and issues provided only one perspective. The topics of this series include the dropping of the atomic bomb on Hiroshima during World War II, the building of the Transcontinental Railroad, Lincoln's Emancipation Proclamation issued during the Civil War, and the "real" patriots of the American Revolution. Kids enjoyed these books, and so did adults. The Public Library Association awarded the series its Lifetime Learning Award.
Copies available at Amazon.com.
Collectibles
I enjoyed collecting baseball cards as a kid, so I thought a book on sports card collecting would be a good idea. The publisher agreed, but they wanted me to do a series of books and include other popular collecting items such as dolls, teddy bears, action figures, and miniature vehicles. Each book in the series tells the history of the collectible, how it's made, and how to start a collection. I was responsible for the pictures in these books, and I had no idea how much time and effort it takes to get good pictures. I got some from companies and others from museums; some I took myself. My son, his friends, and some of my students appear in these books. It's fun to look through the books and see people you know. Sports Cards won a Children's Choice award from the International Reading Association and the Children's Book Council.
Copies available at Amazon.com.
Sneakers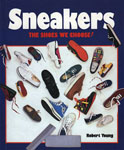 Sneakers have always been my favorite footware, so this book was a labor of love. I lived in the perfect place to write this book, since Eugene, Oregon is the birthplace of Nike. I got a chance to interview the founder of the company and visit the design laboratory. It was fascinating for me to see the development of sneakers, from the thin, rubber-soled canvas shoes worn to play croquet in the 1860s to the modern high-tech sneakers. This book came with some great perks: I got many sneaker samples from companies, including basketball sneakers signed by NBA players, and I served as a judge for the International Rotten Sneaker Contest (a smelly, but fun experience).
Copies available at Amazon.com.
Columbus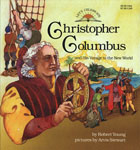 A biography for young readers, this picture book covers the life of Christopher Columbus from childhood until his arrival in the New World. Some interesting things I learned while researching this book: Columbus didn't learn to read until he was an adult, boys went along and kept the time using sandglasses, and much of the food on board the ship was rotten. This was a challenging book to work on since I did not have direct contact with the illustrator. I was pleased that the ships were drawn accurately, but disappointed that the illustrations did not show native people on the land when Columbus and his crew came ashore.
Copies available at Amazon.com.
Chewing Gum Book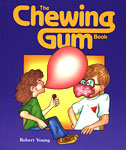 This was my first published book for children, and it also happened to be the first children's book on the subject of chewing gum. It contains everything you ever wanted to know about gum, including its history, how it's made, how it helped save lives as well as solve crimes, and how to get it out of your hair. A fun book to work on, and someday I plan to produce an updated version for all the world to enjoy (mission accomplished in the fall of 2014!).
Copies available at Amazon.com.