What's to love about retirement? Where do I start? Get up when you want. Go where you want. Do what you want, whenever you feel like it.
I get up early, because I want to. I meditate, and I work on my music lyrics 'cause I love doing both. I also volunteer at a local school. Roosevelt Elementary, named after the earlier Roosevelt president: Theodore.
I work in a fourth grade classroom, home to Ed Steiger and his stalwart students. They are a friendly bunch, and I always feel welcomed there. I've been helping Ed support his students with their writing. He doesn't need much help, as he's really good at engaging the kids as well as modeling good writing habits.
One of my favorite activities is teaching young writers the "language" of writing. This involves six traits that characterize effective writing: Ideas/Content, Organization, Voice, Sentence Fluency, Word Choice, and Conventions. We introduce the traits, discuss the elements of each of them, show examples, do activities, and the students then use the knowledge gained to enhance both their own writing and their abilities to edit others'.
I am really impressed at how the class is taking to the editing process, something they have not previously experienced. It is really enjoyable to watch the kids grow as writers.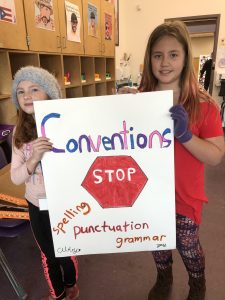 Zoey and Abby created a poster to highlight the trait of Conventions. (periods are like stop signs.)